Scopes
Scopes ?
Here at Willards we stock a large variety of scopes, and are able to order in an even larger variety it all depends on our customers needs.
We pride ourselves in making sure that you are equipped correctly, and we understand that a good quality scope is often more?important?than?a good quality gun! .
Our Service:
We will talk to you about your needs – are you shooting targets or vermin, at night or?in daylight
We will then look at your type of rifle – spring or PCP, break barrel or underlever
We will then talk to you – do you wear glasses, how much are you looking to spend
From this we are able to offer you a scope that will not only look great but perform well! On top of this we will fit the scope and zero it at a distance of around 6 metres.
Below is a selection of the scopes we have in the shop some of which are also available for you to purchase in our online shop.
BSA ESSENCIAL RANGE
Packed with advanced features the essential starts with a one piece body of high grade aluminium and has a fast focus eye bell, finger adjustable turrets,? and fully multi-coated? lenses.?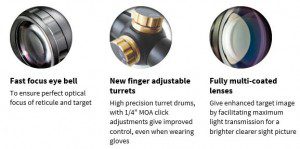 Essencial scope 4 x 32 WR-?39.99
Essencial scope 3-9 x 40 WR-?49.99