CARP
CARP -?Cyprinus carpio
If there is a fish which requires the largest bait diversity it is the carp, and we stock it all! From Boilies that are Chilli Flavour to pineapple pellet and if we don't have it we will do our best to get it!
PELLETS – POP UPS – PASTE?
Small Pop Ups – Large Floaters – Medium Sinkers ?- Hookable Pellet
All Colours Flavours and Sizes!
BOILIE BONANZA?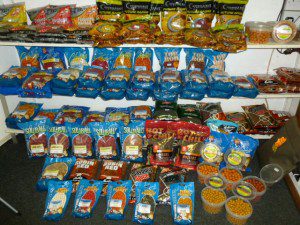 ROBIN RED ? — ? STRAWBERRY ICE-CREAM ? ?– ? HOT CHILLI ? — ? SAVOURY SPICE
SARDINE ANCHOVY ? — ? ISOTONIC BOILIES ? — ? ?SPICY SHRIMP AND PRAWN ? — ? SCOPEX
SOLUBALLS ? — ? MONSTER SQUID ? — ? MONSTER CRAB ? — ? PINEAPPLE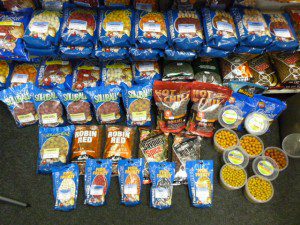 Just a few of the boilie flavours we stock, we also stock some frozen boilies and are able to order different types in as you wish so if you are wondering what we can get please ASK !
TERMINAL TACKLE?
On top of all this bait we stock a large range of terminal tackle for carp, from ready made rigs to all the equipment to make your own rigs! Companies we supply include:
NASH ?– ?CHUB ?– ?KRYSTON ?– ?TOTAL CARP ?– ?ECG ? — ?FOX 30 Plus ? — ?JRC
JOHN ROBERTS ?– ?MIDDY ?– ?ENTERPRISE TACKLE ?– ?KC TACKLE ?– ?NGT
The list of different tackle is huge, so please come in and have a browse at the range of different tackle that we can supply! We also stock some rod pods for the Buzz Bars and as always if there is something you want to order please just ASK.