ROCKETS
Rockets will always add an extra touch of drama to any display, whether it is a family gathering in the garden or a larger organised event.
Garden rockets offer various effects from colour to starburst and noise and will reach 20 – 30 metres high.
The larger single rockets give spectacular shellbursts, again in a variety of effects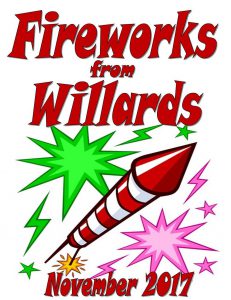 SIREN ROCKETS  –  £7.50
Pack of 5 small colourful garden rockets to enhance a family display box
CENTAUR ROCKETS  –  £14.00
Pack of 9 rockets in two different sizes each giving a different effect
CYCLOPS ROCKETS  – £22.50
Pack of 11 rockets, in two different sizes, each giving an exciting and different effect
APOLLO 5 PRO – £22.50
Offering both extra power and extra noise these rockets give some of the best effects available from a garden rocket
BIG GUNS PRO – £22.50
A fabulous full-power bad boy!
Available in four effects –
Gold weeping willow ;
Double burst thunder and crackle;
Colourful palm;
Big silver chrysanthemum
THE KING – £27.50
This really is a magnificent rocket – the ultimate sky filler, show starter, event stopper, crowd pleaser!
Also available in a pre-packed box of four – just ask us for 4-KING MARVELLOUS!
CUPID SELECTION  –  £29.50 each
Single rocket, five different effects available:
Sourcerer,
Sky Thunder,
Special Ring,
Quantum and
Love is in the Air
GAS GIANTS  –  £30.00
Sold as a pair – one giving a beautiful red dahlia with chrysanthemum and the other a classic colour palm with crackle